Tour guides are often the first people prospective students and families interact with on campus. Whether it's Green and White Day or an admitted tour, these student tour guides have the distinct honor to welcome guests to Michigan State University.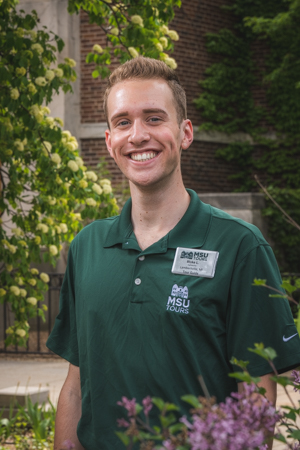 Blake Lajiness, MSU tour guide and recent inductee to the Tour Guide Hall of Fame, has been in his role since January 2020. Blake became a tour guide because he wanted to share his love of MSU with others.

"After a tumultuous few years, I wanted to do my part to restore MSU's reputation and show prospective students what MSU is all about," Blake said.

He trained for the first eight weeks of the spring 2020 semester before proctoring his first tour, scheduled for the week after spring break. That tour was canceled due to COVID-19, along with all tours thereafter.

In a typical year, MSU Tours hosts about 80,000 guests. There is a staff of about 120 tour guides during the academic year and about 50 in the summer.

"I grew to realize and value that the beauty of campus tours is for prospective students and families to see if MSU is the best place for them," said Rachel Powell, recent graduate and MSU Tour Guide Hall of Fame inductee. "It's a valuable learning experience to see what they want in a university."

MSU Tours offers several different routes on campus ranging from 30 minutes up to 90 minutes, and have given tours while walking, busing and even on a hayride. Predominantly, MSU Tours works with prospective and admitted students but has also worked with elementary schools, alumni groups, special interest groups, and even a wedding or two.

In March 2020, tours pivoted to a virtual format.

"The virtual tours consist of 3 tour guides, each speaking for seven minutes," said Blake. Tour guides display a combination of maps and pictures to students and families during virtual tours. While a virtual tour is not the same as an in-person tour, seeing pictures of campus always makes me smile."

Due to the uncertainty of the pandemic, Blake took a break from the tour guide program during the fall 2020 semester. In January 2021, he returned to the program and jumped right into training for virtual and in-person tours. Typical in-person tours consist of a 90-minute walking tour throughout campus. In response to COVID-19, the in-person tour route was revised to an outdoor-only route. With this revision, the new route also showcases new buildings and iconic landmarks, including the Spartan Statue. Blake's favorite talking point on the in-person tour route is the new STEM Teaching and Learning facility.

"I'm very passionate about sustainability and technology. This building combines my two passions in a beautiful way," he said.

Blake also enjoys telling guests about the history of the STEM Teaching and Learning facility, including how a new building was built around the former power plant.

"I love to impress the guests with fun facts and historical context about campus. With the STEM Teaching and Learning facility specifically, I like to add it's a very green building built with input from students and the result is marvelous. I'm excited to explore the building when it opens later this year."

As with any tour, the tour guides at MSU like to make it fun and each have phrases that students and families come to expect.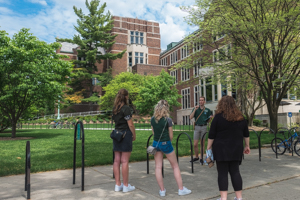 "I like to combine jokes and facts on my tours," said Blake. "When I get to the Spartan Statue stop, I like to explain how the original statue was made from terracotta and now located in the stadium after weather damages. To make it funny, I like to say, 'he didn't like the weather, so he went inside.'" Another favorite phrase is, 'if you liked this tour, my name is X, if you didn't, my name is Y.' My friend Caitlin and I always say each other's names because we started the tour program at the same time."

For students who are coming to East Lansing in the fall and haven't been on a tour or visited campus, Blake offers some advice to make the most out of their years at MSU.

"Take advantage of the resources at MSU. I can't hype them enough. There are so many opportunities available that will make your experience so much more rewarding," he said.

Blake also added that many students experience similar feelings when starting college or new classes. In a virtual setting, it is difficult to make connections and share how you're feeling. When in-person classes resume, he encourages students to turn to a neighbor in a class and start a conversation.

"People often don't have conversations with new people in classes," he said. "Don't be afraid to turn to your neighbor and start a conversation. It's unexpected and a great way to make a new friend."

If you love MSU and want to share that love with future Spartans, the MSU Tours program is perfect for you. "Being from Houston, Texas and coming so far away for university, I wanted to have an opportunity to assure prospective Spartans that you can come to school with no one else from your high school and still make friends and be successful," said Rachel. As part of the MSU Tour Guide team, you will lead prospective students, parents, families, visitors, and alumni on walking or bus tours of MSU's campus, as well as lead neighborhood and residence hall/apartment tours. For more information about joining the MSU Tours team, visit tour.msu.edu.

---
About the Author: Brandon Crawford (BS 2021), current graduate student, interviewed Blake Lajiness and Rachel Powell on May 4, 2021. Brandon had a fantastic time interviewing both Blake and Rachel and hopes those reading this article are inspired to explore campus through the MSU Tours program.