Springtime signals a lot of different things: longer days, new beginnings and greener sceneries. But on campus, the change of seasons signals MSU's annual Spring Arts & Crafts Show! For the 58th year, patrons will be able to shop handcrafted products May 21-22, from 250 unique vendors. This time-honored tradition is hosted at the MSU Union by the University Activities Board (UAB).

The Arts & Crafts show offers products ranging from jewelry to candles to paintings, and everything in-between. This spring show, UAB is prototyping service-based vendors. One of these vendors will be offering henna services with homemade henna. Another service-based vendor will crack oysters and make jewelry with the pearl right in front of customers.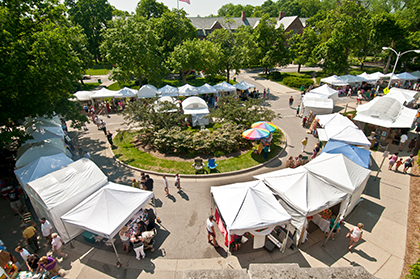 Many of the vendors who showcased their products at the Winter Arts & Crafts Show are returning to offer their pieces once again. One such vendor includes a mother and daughter duo who have been attending the show for 40 years. The majority of the vendors do come back every year to showcase their homemade creations because of the amazing support they receive from the East Lansing community. It is projected around 40,000 patrons will attend this year's spring show.

"We want to try and expand student involvement in the show, and hope to open it up to students in the coming years," shared Sara Stratilatov, assistant manager of UAB.

There are many students who have small businesses in East Lansing, and UAB is hoping to support them in upcoming shows. The Spring Arts & Crafts Show also supports UAB as one of the group's largest fundraisers. Vendor fees go towards UAB-hosted events, so students can enjoy them for free. 
For nearly six decades, UAB has cultivated this special event, bringing in vendors and patrons together to celebrate the talents of wonderful artisans. This year, East Lansing's Fine Arts Festival will also be taking place at the same time as MSU's annual Spring Arts & Crafts Show. The community will be able to celebrate local businesses and artisans the weekend of May 21 and 22. If you are interested in attending this year, head over to the Spring Arts & Crafts Show website or visit their Facebook page to learn more.

58th Annual MSU Spring Arts & Crafts Show
Saturday, May 21 (9 a.m. - 6 p.m.)
Sunday, May 22 (10 a.m. - 5 p.m.) 
--- 
About the Author: Kailey Skarbek, senior at Michigan State University, interviewed Sarah Stratilatov, Assistant Manager of the University Activities Board on April 11, 2022. Kailey had a fantastic time interviewing Sara and hopes those reading this article are excited to attend this year's Spring Arts & Crafts Show.